We noticed that many of our customers are choosing to spend their time at home during the Covid-19 pandemic by getting linen crafty. Many textile artists have turned to us to provide the perfect linen by the yard for their linen craft; needlework, hand & machine embroidery, rug hooking, toweling, cross stitching, and crewelwork.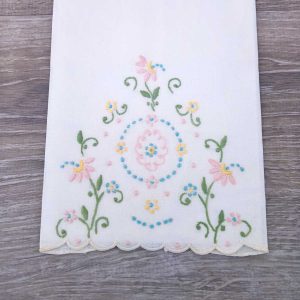 Learning a new skill can be a frustrating endeavor at first. A lesser quality fabric or tool can often make linen crafting a difficult undertaking. Which is a shame because it can really discourage a beginner from continuing! Ulster Linen is 100% devoted to superior linen. We believe material matters. Every part of linen matters, from the flax and where it's grown, to where and how it's woven. Linen is literally all we carry and care about!
Linen Craft Community
Occasionally, I get a chance to browse the blogs and websites of some of our consumers. When visiting our clients we find it is such a treat to see the beautiful textiles and artwork they produce on our linen!
This is why we love it when you considered any of our linens for your next project. For that reason we ask you to share pictures of the process or completed projects. Linen is beautiful on its own, but is often a background for some gorgeous works of art. If linen by the yard isn't your thing, we carry a range of hand towels & handkerchiefs that you can personalize and keep or give to a loved one.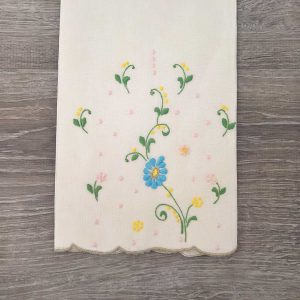 All our linens are expertly woven to produce an even weave and soft feel. The reason Ulster Linen's is asked for by name time and time again is our consistent high quality. Whether you are a textile artist, linen craft enthusiast, historic reproduction company, or designer, we believe that Ulster Linen fabrics are the best choice for your project's needs. We hope you agree!
Need advice?
Do you have more questions about quality linen and how to tell the difference? We are here to answer your questions and would love to send you a sample so you can see the difference for yourself. As a 4th generation business, Ulster Linen has an wealth of knowledge and history that has been passed down through the years.
Stay connected to Ulster Linen
Do you want more information about Ulster Linen? Be sure to follow our Blog for updates, tips and advice about all things Linen! Follow us on Social Media and be sure to email us if you have any questions! Sales@UlsterLinen.com
Follow us!
Facebook: @UlsterLinenCompany https://www.facebook.com/UlsterLinenCompany/
Instagram: @UlsterLinenCompany